15 Aug

Los Angeles Announcement

August 14th, 2017

In partnership with LA84 Foundation and Los Angeles City Council President Herb J. Wesson Street Soccer USA announced the Street Soccer – LA pilot program to reach homeless and at-risk youth in Los Angeles. The pilot program is the first step in a city wide initiative to address the 15,000 estimated students in LA Unified School District who are homeless and the many more who are on the verge of homelessness.

Street Soccer USA's success operating similar programs in New York City in partnership with the NYC City Council and Department of Children, Youth and their Families, ESPN Corporate Citizenship and HELP USA paved the way for replication to Los Angeles.

Street Soccer USA will begin immediately accepting applications for board members and corporate partners in Los Angeles as well as bringing the nationally recognized Street Soccer USA Cup to an iconic location in Los Angeles.

If interested in a board position or partnering with Street Soccer USA in Los Angeles please reach out to Co-founder and Director of Development, Rob Cann, Rob@streetsoccerusa.org / 804-690-6408.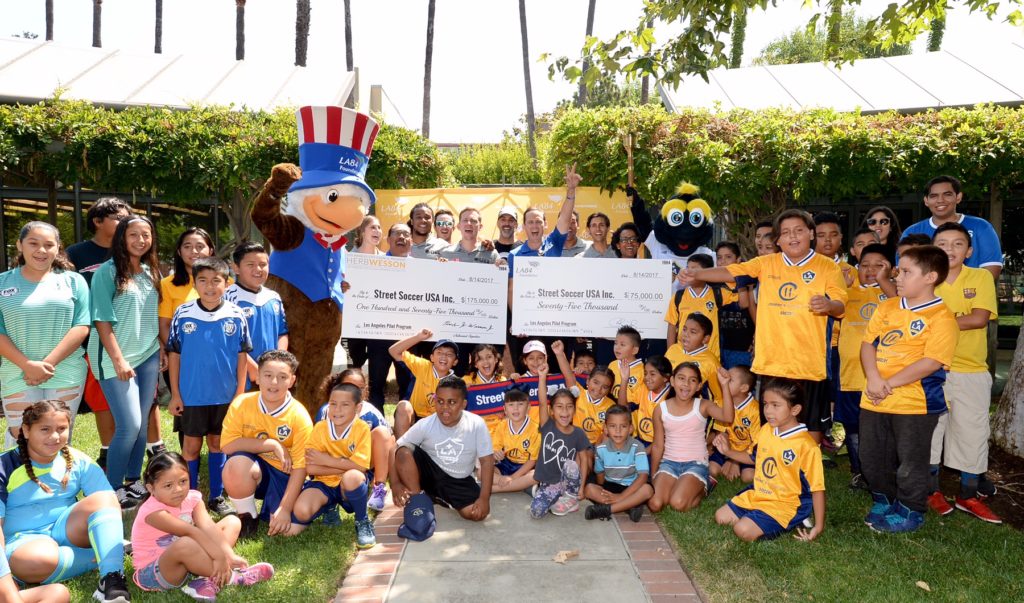 The Street Soccer USA program is a cost effective way to address the specific needs of youth living in poverty. Street Soccer USA offers a soccer-based life skills program that teaches 8 progressive life and job readiness skills with age appropriate content. SSUSA's Street Soccer Skills (Show Up, Play with Heart, Look Up, Take the Space, Build Your Triangle, Praise Great Play, Play the Plan, Adjust the Plan) progress two skills at time from fundamental, to individual, to team, to strategic lessons that translate the learnings of sports to real life. The goal of the curriculum is personal empowerment by teaching our participants to be problem solvers in their individual lives and in their community. Street Soccer USA's community based clubs create ongoing engagement with youth and their families, and among different community stakeholders, creating social capital, and organizing a safety net of support for youth and young adults 365 days a year.
Councilman Wesson said, "It's up to us to push the envelope, not protect the status quo, when it comes to finding ways to support and empower our city's vulnerable youth. This innovative program will not only provide young members of our community with access to sports, but it will also teach them to be determined, courageous and ambitious on and off the field."
"The LA84 Foundation thanks Council President Wesson for his leadership on this issue," said LA84 Foundation President and CEO Renata Simril. She added: "The transformational power of sport is saving lives in our communities. The physical and emotional benefits of sport and structured play gives kids confidence and hope, and the LA84 Foundation strongly supports programs like Street Soccer USA providing #PlayForAll access to improve the quality of life for our youth who need it most."
Rob and Lawrence Cann, Founders of Street Soccer USA, said, "We believe in the promise of our community and all it as members. We believe that relationships change lives and in the unique power of soccer to create those relationship. We want to thank the LA84 Foundation and Herb Wesson for showing up for the community. Together we will help realize the promise of our participants starting this Fall and over the long term."