20 Oct

Blue Card
SSUSA Blue Card Concept Spreads
Street Soccer USA has been a leader in developing program techniques that make soccer more accessible and set a culture of personal development. Whether it was creating the first SSUSA Park concept back in 2007 in Charlotte, North Carolina or our
social enterprise soccer leagues
that generate revenue for our programs, Street Soccer USA continues to be at the forefront.
One of our concepts initiated in 2012 at the Street Soccer USA Cup in NYC was the Green Card given for sportsmanship and fairplay. The Green Card surfaced in the Italian Serie B in 2016 (
see article
) about four years after we initially started using the card. We have since changed it from a Green Card to a Blue Card to be more culturally sensitive.
The Blue Card in Street Soccer is a coaches go-to tool for positive recognition on the soccer field . Rather than using yellow or red cards, which are for foul play and punishment, the Blue Card is awarded to players who are demonstrating Street Soccer skills, playing fair, helping others and keeping practice safe. The Blue Card is also used at our major competitions, The Street Soccer USA Cup, as a tie-breaker. The team with the most blue cards advances in case of a tie in the standings.
This month Street Soccer USA is proud to announce the adoption of the Blue Card from America SCORES New York and Play Rugby USA!
As evidence the Blue Card message is really taking off, we asked America SCORES why they decided to add the Blue Card to their program.
"When we read about the fact that Street Soccer USA had introduced a Blue Card to encourage positive play, we knew immediately we had to adapt it to our soccer program," said America SCORES Executive Director Shannon Schneeman.
"We are gradually phasing it in but the players have responded very enthusiastically. We are confident that it will become a highly effective tool in encouraging sportsmanship."
If you are interested in implementing the Blue Card at your organization, club or league, please email Jefferson@streetsoccerusa.org and we can send you custom cards and give you a tutorial on how to implement.
Street Soccer USA Green Card being shown at the SSUSA Cup 2012 in New York City:

An America SCORES referee awards a SCORES card to Shelyce of PS 161 in Harlem because of good sportsmanship.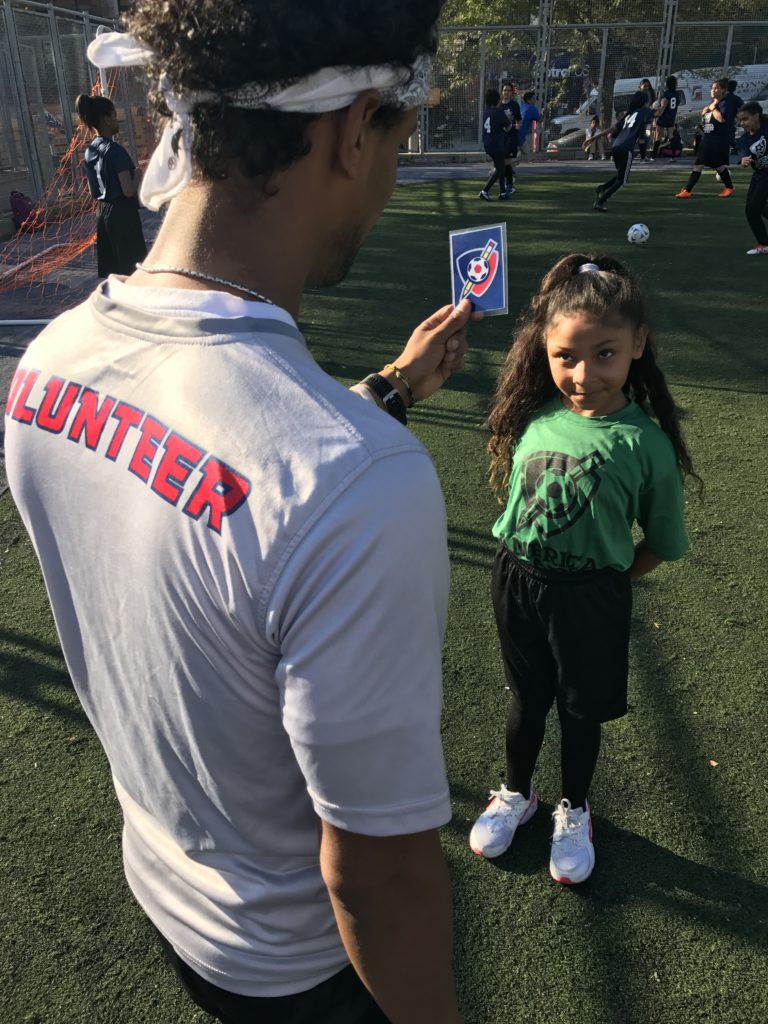 Play Rugby USA use the Green Card (before it changed to Blue Card) at the Flag Ruby Cup in San Francisco.